I've written many articles for magazines and newspapers, among them the Silverton Standard, Durango Herald, Destination Silverton, Running Journal, and Ultrarunning magazine.  Click on Samples to read some of my articles.
I have a BA in English (University of Minnesota), an MA in African Studies (Howard University) and a PhD in history (Michigan State University) and taught at a number of universities in the U.S. (Michigan State University, the College of Charleston) and Africa where I was a Fulbright Professor at the University of Malawi.  Besides my academic degrees I earned a TEFL (Teaching English as a Foreign Language) certificate from i-to-i in the UK.
After retiring from my job as an intelligence analyst with the Special Operations Command at Ft. Bragg, N.C. (I can keep a secret) I worked in the tourist industry (Durango Mountain Ski Resort, Mayflower Mill tour and gift shop) for a decade.  I also operated my own small business, Baker Park Vending, for three years selling caffeinated energy chews from vending machines.  I'm a good public speaker from my teaching days and occasionally preach at my church.  I blogged on Basecamp Silverton when I ran unsuccessfully for San Juan County Commissioner in 2010.  I own and operate the Train Store in Silverton, CO, specializing in the Railroad Art of Herschel Scott, aka Scotty, while selling a wide variety of train-related items, especially those connected with the Durango and Silverton Narrow Gauge Railroad.  If you're interested in Scotty's work go to www.silvertontrainstore.com.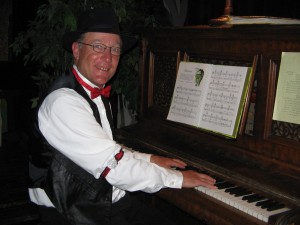 I can play Broadway show tunes on the piano for your birthday party or bar mitzvah and I'll be happy to befriend you on Facebook.